While in the Qu'Appelle Valley
Katepwa Recreation
The beautiful and historic Qu'Appelle Valley runs west to east across two-thirds of Saskatchewan. The area around Fort Qu'Appelle, which includes Katepwa Point on Katepwa Lake is teaming with things to do in the way of recreation and things to see in the form of events and history.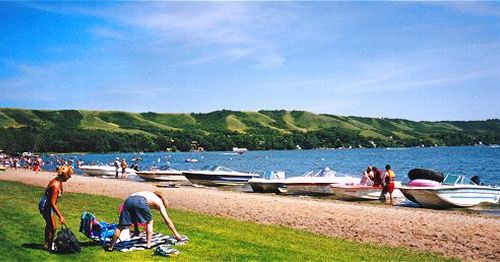 Fishing
Fishing is just one of the activities which awaits you at not one–but four–lakes in this area: Katepwa, Mission, Echo and Pasqua lakes. And it's an activity for both summer and winter. Special events include theAt the beach in Katepwa Point Provincial Park annual Walleye Cup competition in September, and a Perch Jigging competition in March. And when you get tiredof all that fishing, during the summer you can also visit the Provincial Fish Hatchery on the north shore of Echo Lake.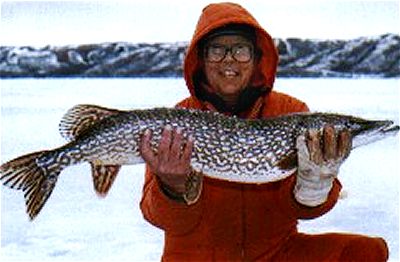 Motherwell Homestead & Katepwa Point
Two provincial parks are located in this very special area of Saskatchewan–plus a national historic site. Right next to our cabins is the Katepwa Point Provincial Park. About 30 minutes west, between Pasqua and Echo Lakes is the Echo Valley Provincial Park. About 15 minutes northeast is the Motherwell Homestead national historic site. Katepwa Point Provincial Park.
Katepwa Point Provincial Park is the smallest provincial Park in Saskatchewan at 8 hectares. The park is officially open May 15 to September 1, although access to much of it (without facilities) is available all year. Park services include a picnic area, aquatic program, boat launch, large parking areas, picnic area, playground, beautiful beach, washrooms and change rooms, telephone and watercraft rentals. There is no park entry fee at this park. Adjacent facilities include restaurant, fast food outlet, store, and bar and grill.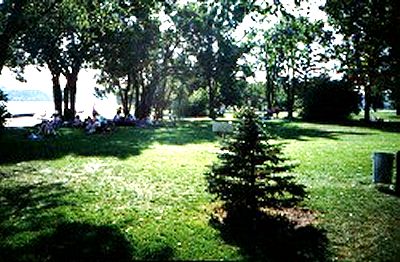 Go Golfing
Three golf courses exist already in this area with a fourth in the process of being added. There's the Katepwa Beach Golf course a few minutes walk from our cabins; Echo Ridge Golf Course at Fort Qu'Appelle; and the Indian Head Golf and Country Club. All three are nine-hole courses. When you book a golf package you receive 10% off your stay at the cabins and your golf rates are discounted as well. Contact us or the Katepwa Beach Golf Course for rates as they vary.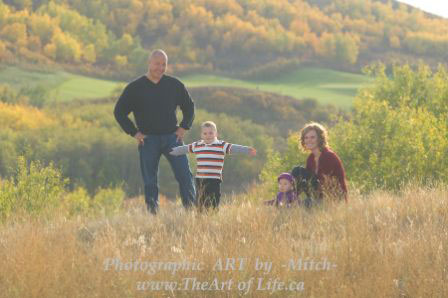 Downhill and Cross Country Skiing
Skiing-downhill at Mission Ridge Winter Park and cross-country on the lakes and in the hills surrounding them–are readily available in the area during winter. In summer, bring your motorboat and try it on water!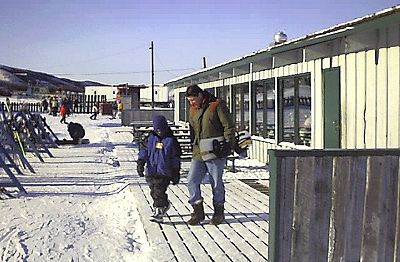 Snowmobiling
Snowmobiling in winter is top notch here, with more than 300 kilometers of groomed trail prepared every year by the Calling Lakes Cruisers Snowmobile Club. Plus there's an annual Winter Festival at Fort Qu'Appelle usually in February which often includes Snow Cross Competitions and Snowmobile Trail Rides or Poker Derby, and Snow Drag Races generally take place in February or March on Mission Lake.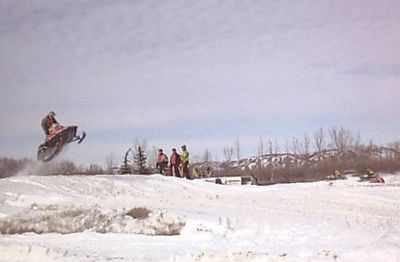 And Much More
Not to mention swimming and relaxing on five excellent beaches in on three of the four lakes. One at Katepwa Point Provincial Park on Katepwa, three on Echo Lake: at the Fort Campground, B-Say-Tah Village and at Echo Valley Provincial Park; The Mid Summer's Art Festival in Fort Qu'Appelle is a popular eventplus a fifth at Echo Valley park on Pasqua Lake.
Then there's the Echo Valley Road Race in May, Canada Day celebrations throughout the area on July 1, a Rodeo in Fort Qu'Appelle, many Fall Suppers, Trap Shoot competitions at Fort Qu'Appelle, the Mid-Summers Art Festival in Fort Qu'Appelle on the August long weekend, Treaty 4 Days at Fort Qu'Appelle in September; Lebret Art Show and Sale, and flea markets every Sunday through June, July and August. Oh, and don't forget berry season in late July and August!